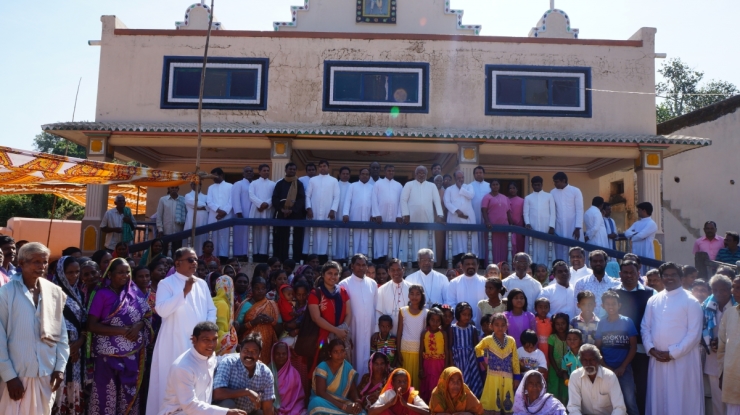 About 60 Dalit priests and nuns from across India made a pilgrimage to Kandhamal, Odisha, on Nov. 28 as a sign of solidarity to the victims of Kandhamal violence 2008 who are still waiting for justice from the government and due recognition of the martyrdom of Christians from the church for their heroic faith.
Ten years since the Kandhamal incident and "yet many are not able to go back to their original places. The people still live in fear," said the participants.
"We demand that the 7 innocent people in the prison are immediately released, the Government pays adequate compensation to the victims of violence and they get back their lost houses and lands by resettlement in their original places with proper security," they added.
The anti-Christian violence in 2008 spread over 615 villages. The perpetrators of violence destroyed around 7500 houses, 395 churches, 42 schools and more than 1, 50,000 people were displaced. Nearly 100 Christians were killed.
Led by Bishop Neethinathan, the pilgrimage was a part of the program PET II (Pilgrimage, Exposure and Training), which was organized by Catholic Bishops' Conference in India (CBCI) office for Schedule Caste and Backward Classes (SC/BC) to experience the misery, fear and hopelessness of Christians in Kandhamal.
Most Rev. Sarat Chandra Nayak, bishop of Berhampur and native of Kandhamal, presided over the Eucharist along with most Rev. Neethinathan, chairperson for the CBCI Office for SC/BC, Dalit priests, nuns and the local clergy at Tangia village, where a small memorial is erected for seven martyrs of the village including Fr Bernard.
"They paid floral tribute at the memorial and pledged their commitment for their faith and vocation. They also prayed that the Dalit Christians are included in the Scheduled Caste list," read a statement.
On Nov. 29, a day workshop on the topic 'Call and Commitment' was held.
"We appreciate all the activities taken by the Churches and other Civil Society Organizations for the relief, rehabilitation, resettlement and reconstruction for the victims of violence in Kandhamal," said the participants.
"We are happy to know that the Archdiocese of Cuttack-Bhubaneshwar has started the process for sainthood to the Dalit and tribal Christians who gave their lives for the faith. We appeal that the whole Church shows solidarity to the Archdiocese of Cuttack Bhubaneshwar with their prayers and other supports," they added.